Colloquium: Mathematical and experimental models of cell invasion with fluorescent cell cycle indicators
Seminar/Forum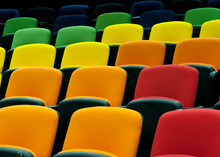 Russell Love
Peter Hall Building

Map
Fluorescent cell cycle indicators, such as FUCCI, allow us to visualise the cell cycle in individual cells. FUCCI reveals real-time information about cell cycle dynamics in individual cells, and can be used to explore how the cell cycle relates to the location of cells, local cell density, and different microenvironments. In this talk we will describe how FUCCI technology can be incorporated into continuum and discrete models of cell invasion. Using experimental data from scratch assays with FUCCI-transduced melanoma cells, we show how mathematical models can be used to predict key features of the experiments. Some analysis of travelling wave solutions of the models will also be presented.
Presenter
Professor Matthew Simpson

Queensland University of Technology

I am an Australian Research Council Future Fellow and Professor of applied mathematics at Queensland University of Technology (QUT), Australia. I hold undergraduate and postgraduate degrees in Engineering from the University of Newcastle (1998) and University of Western Australia (2004), respectively. From 20032009 I held positions as a research fellow, and then as an Australian Research Council Postdoctoral Fellow at the University of Melbourne, where I began to work in applied mathematics and mathematical biology. I have been at QUT since 2010.