MIG Seminar Series - Eduardo Eyras - Long read transcriptomics...beyond model organisms
Seminar/Forum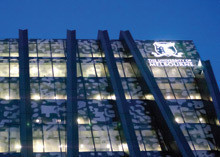 Agar Theatre
Biosciences 4

Map
More information
T: 83440707
Long read transcriptomics - beyond model organisms
Abstract: New long-read sequencing technologies provide an unprecedented opportunity to study transcriptomes from any sample and species. However, analyses so far rely on a genome sequence or use hybrid approaches in combination with short reads, limiting the scope of the technology. The lack of dedicated tools hinders the full deployment of long-read technologies for the systematic and cost-effective interrogation of transcriptomes from any sample and species. This is crucial for non-model organisms, which are relevant to ecology, agriculture, and medicine, but also for model organisms, as available genome sequences do not always capture individual variations. We have developed a new method, RATTLE, for the reference-free reconstruction of transcriptomes from Oxford Nanopore cDNA/RNA sequencing reads. RATTLE uses similarity based clustering to reconstruct genes and alternative transcript isoforms, and to perform error correction from long reads without the need of a genome reference. Using experimental and simulated data and comparing to other methods, we show that RATTLE improves the mapping of long reads to the reference and delineates precisely exon-intron structures. RATTLE closes the existing technological gaps to build and interpret transcriptomes using long-read sequencing without relying on a genome sequence or additional technologies.
Presenter
Professor Eduardo Eyras

EMBL Group Leader and Professor
Australian National University (ANU)

Eduardo Eyras did a PhD in Mathematics (University of Groningen, The Netherlands, 1999) and a Marie Curie postdoc at the Centre for Mathematical Sciences at the University of Cambridge, UK (19992001). During this period he published 15 articles in peerreviewed journals of mathematical physics. In 2001, he joined the Informatics Division of the Sanger Institute (20012004), where he contributed to the development of the Ensembl gene prediction pipeline, developed one of the first computational methods to predict alternative splicing variants, and contributed to the landmark papers of the mouse, rat, chicken and cow genomes. In 2005 he became ICREA Research Professor, and since then his research has focused on the development of computational tools and Machine Learning (ML) methods to study RNA biology and disease. In 2007 he was awarded Young Investigator grant from the European Network on Alternative Splicing (EURASNET), and in 2013 he was a visiting professor at the University of Toronto. In 2019 he became EMBL Group Leader and Professor at the John Curtin School of Medical Research of the Australian National University.