An Introduction to Randomised Numerical Linear Algebra
Seminar/Forum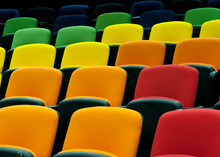 Evan Williams Theatre
Peter Hall
Monash Road
Map
More information
T: 48543
Matrices have extensive applications in applied mathematics, statistics and computer science. Motivated by technological developments that generate extremely large scientific datasets, there have been exciting developments in the theory and practice of matrix algorithms. Randomised Numerical Linear Algebra (RandNLA) is an interdisciplinary research area that exploits randomisation as a computational resource to develop improved algorithms for large-scale linear algebra problems. Both theoretical and empirical experiments reveal that RandNLA promises a sound algorithmic and statistical foundation for modern largescale data analysis in statistics, optimisation and machine learning.
Presenters
Dr Asef Nazari

Senior lecturer
Deakin University

Asef Nazari is a senior lecturer in Applied Mathematics in the School of Information Technology at Deakin University. His research interests lie primarily in the area of Operations Research and Machine Learning. Asef has been involved in several national and international industrial projects including modelling and planning the electricity networks, mining operations optimisation and agricultural land allocation.

Dr Ali Eshragh

Senior Lecturer
University of Newcastle

Ali Eshragh is a senior lecturer in Statistics and Optimisation at the University of Newcastle. His research is primarily focused on the areas of Applied Probability, Statistical Modelling and Optimisation. He has received several awards for his excellence in teaching and research. Recently, he was awarded the Australian Society for Operations Research Rising Star Award. Ali is a chair and organiser of the first ongoing yearly workshop titled "Data Science Down Under" with the inaugural theme of Randomised Numerical Linear Algebra, that will be held in Newcastle, 812 December 2019.